It's a busy time as the fashion shows continue to hit the runways at New York fashion week. While the frigid temperatures are breaking records in the city that never sleeps today we are going to channel Spring and hope for warmer, sunnier days ahead.
Polka dots is one of the most popular prints that designers utilized in their Spring/Summer '15 shows. It's now trending everywhere as a must have for spring. It's actually hard to report this as a 'trend' since polka dots seem to always circle back just as much as stripes. Two examples on the runway were Dolce and Gabbana and Lela Rose. Dolce and Gabbana were very inspired by the spanish flamenco thematic and juxtaposed this pattern with romanticism and red flowers. Lela Rose on the other hand was influenced by Japanese silhouettes. She mixed dots with florals and including modern cutouts. Two completely different point of views but yet transferrable to every day wear. Lets be honest, polka dots are everywhere these days from home goods, stationary to apparel and accessories. It's feminine, timeless, demure and quite easy to wear from day to night. What woman doesn't like that kind of versatility in her wardrobe right?
So fashionistas, we leaves you with a few ideas on how to inject a bit of this very popular print into your Spring 2015 style. Please visit our Pinterest board 'Dots All' for more inspiration. If you are a fan of polka dots let us know below by leaving a brief comment or if you know anyone that might enjoy this post as well feel free to hit the social SHARE buttons below. Make sure to visit back for more NYFW runway standouts right here at One Style at a Time. Thanks for visiting and for sharing!
Spring 2015 Polka Dot Trend by onestyleatatime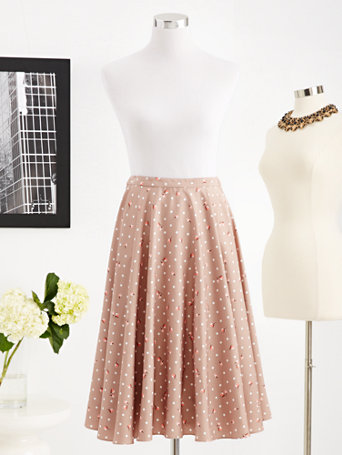 New York and Company – Eva Mendes Collection – Fiona Full Skirt – Polka-Dot Rose Print, $64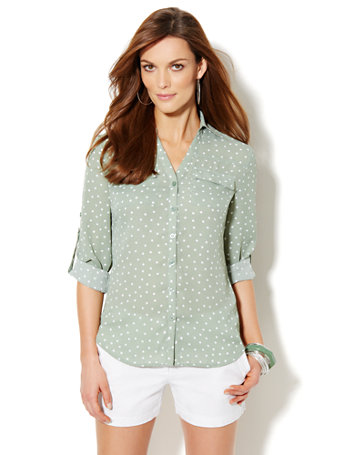 New York and Company Mercer Soft Shirt – Polka-Dot, $44.95
Reese Witherspoon, Emma Stone, Diane Kruger